Environmental Policy,
social contribution activities
It is vital that we help to protect and preserve the natural environment,
both on a global scale and in our local communities, through our business activities.
While many issues still need to be addressed, in areas such as energy conservation, resource conservation,
and recycling, Marumi Sangyo will carry out ongoing, company-wide activities, one step at a time, starting with the most practical measures.
Environmental Policy
Social contribution activities
Environmental Policy
Under its Environmental Policy, Marumi Sangyo engages in reforestation activities. In 1972, we acquired a forested area of about 200,000 tsubo (660,000 square meters) in the highlands of Hokkaido, where we plant trees and systematically thin and husband the forest. It takes about 60 years before the trees are ready to be harvested, and the next scheduled harvests are planned to be 100,000 tsubo (330,000 square meters) in 2048 and 100,000 tsubo (330,000 square meters) in 2076.
Through planting of some 120,000 saplings and periodic thinning, the forest is planned to be home to around 26,000 Sakhalin fir and other varieties, 30 centimeters in diameter and 22 meters high, in 60 years' time. That is equivalent to 20,000 cubic meters of lumber. We also own a forest of about 5.28 million square meters in area in Takayama, Gifu Prefecture. These forests absorb more carbon dioxide than the Company's total measurable emissions from electricity, natural gas, fuel, and other sources.
Social contribution activities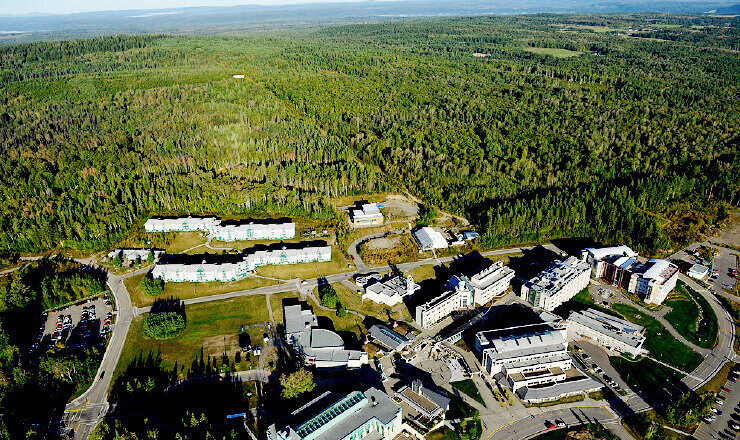 Marumi Scholarships help to enhance human-resources development and exchange
The Marumi Scholarships were established for Forest Industry Studies at the University of Northern British Columbia in Canada, in 1996, to commemorate the 50th anniversary of the establishment of Marumi Sangyo and the seventh anniversary of the establishment of Marumi Canada Lumber Ltd. Since then, they have helped numerous outstanding students to pay for their studies. Thus, Marumi Sangyo contributes not only to international exchange with Canada but also to development of human resources with the capabilities to succeed on the global stage.