About our head office building
Marumi Sangyo's head office building embodies the distinctive qualities of wood (such as its character, elegance, textures, warmth, charm, touch, nostalgia, and relaxing properties) with the elegance of contemporary construction techniques. Under current laws, constructing buildings entirely of wood is prohibited in urban districts, in order to help prevent fires. However, the office building utilizes as its main structural materials wood-based hybrid materials developed by the lumber industry in recent years. These materials combine wood and steel to achieve the levels of fire resistance required by law.
The building fuses Chief Advisor Mineki's thinking on wood and the future with the ideas of architect Shin Takamatsu's regarding the possibilities and beauty of wood. Its one-of-a-kind exterior combines wood-based hybrid pillars with composite pillars, visibly exposed behind glass walls.
As with the exterior design, the interior is innovative, employing a skeleton structure as far as possible in order to facilitate adaptation to organizational changes while maintaining sufficient structural strength. Partial "green" landscaping on the second and fourth floors reflects consideration for both the immediate environment of the building and that of the neighboring community.
About the hybrid composite pillar structure
Wood-based hybrid composite materials are laminated components made from Japanese larch with inbuilt H-shaped steel beams. Recently developed by the Ministry of Land, Infrastructure, Transport and Tourism's comprehensive technological development project and the Japan Laminated Wood Products Association, these materials have been certified by the Ministry to be fire-resistant for one hour. This building is one of the largest in Japan to use this construction method.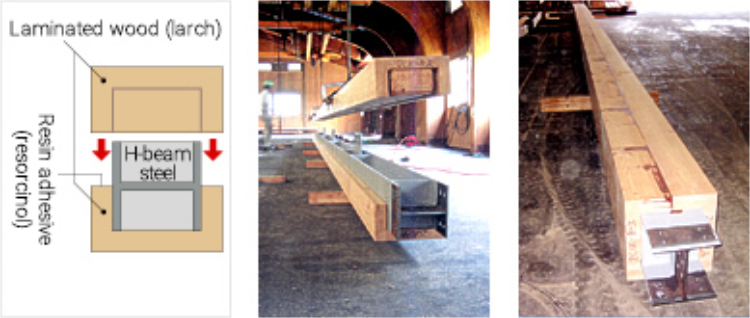 The burnout phenomenon
The fire resistance of hybrid composite materials derives from the burnout phenomenon in lumber materials. This refers to the phenomenon whereby flames will die down naturally on a material that has ignited and caught fire, without burning the entire material, as a result of a carbonized layer forming on its surface.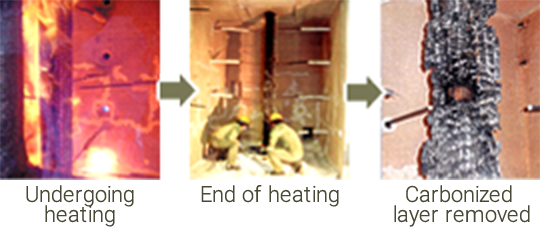 Double-skinned curtain walls
The glass curtain walls used to protect the wood against wind and rain damage and to display the wood itself as a symbolic expression of the building have a double-skinned structure. The inner skin uses fireproof glass to secure the necessary fire resistance, and the double-skinned structure helps to shield the interior from the sun's rays and improve thermal insulation, as well as providing sound insulation.